The true birth story of my two wonderful boys, and the creation of the Blissful Birth programme…
"They thought I was crazy when I said I was using self hypnosis and relaxation to give birth… Until my baby came in 4 Hours with no pain relief"
It all started back in the summer of 2005 when my husband Rob and I found out I was pregnant. We are both UK registered Cognitive Hypnotherapists, and we had been teaching expectant mums self hypnosis and fear removal techniques in private practice with great success.
But up until this point, I had no first hand experience of what it is like to be pregnant or what it was like to wait 9 months with everyone telling me how horrendous birth can be.
Frankly, I Was Scared Out Of My Mind
And for good reason because
I had suffered a slipped disc before I got pregnant
I was bombarded by horror stories from my well meaning friends
As a professional Hypnotherapist, I felt under pressure from family, friends and clients to make this work.
When I told people I was pregnant and that I was going to use self hypnosis and relaxation to help me give birth without any drugs or epidurals, they all thought I was mad – even though they knew what I did for a living! There was a lot of doubt and negativity around me.
So you can understand why I was worried.
Even worse, as my pregnancy progressed, and the baby grew, I could feel my back getting worse and I was placed under the care of a consultant. He kept telling me that I would probably need to have an early delivery by caesarian section, and I remember thinking…
There's No Way I Can Have A Natural Birth Now!
So I sat down with my husband, Rob, and we talked things through. We both knew what was at stake, but I was determined to be in control of my pregnancy and have a good birth experience.
So I started going through every hypnosis and birthing book I could lay my hands on, trying every technique from the birthing 'experts' I could find to help me prepare. I knew in my heart that my body would know what to do, if only I could overcome my fears.
We had no idea if any of it would actually help me achieve the natural birth I wanted, but we knew…
We Had To Try Something!
Eventually, after lots of trial and error, we mixed some traditional techniques with the latest research into how our minds work, and came up with a plan.
The original Blissful Birth system was born.
I practiced the techniques regularly and Rob made some recordings which I could listen to each day. My pregnancy went very quickly, and although my back was very painful, I lost the fear and became more and more confident that I would be able to have a natural birth. Even my consultant was hopeful.
Then, three days before my due date, I went into labour. Although I had the usual Braxton Hicks practice contractions, the first real contraction caught me by surprise and I had a moment of doubt.
But I had promised myself I would give birth naturally, and I wasn't going to go back on my word.
I quickly got into a relaxed frame of mind, and with each contraction I knew I was one step closer to meeting our baby. After 6 hours I told Rob I felt ready to go to the hospital.
But when I arrived, the midwives weren't convinced I was very far along because I was too relaxed and happy!
They said I would probably be going home again, but when they examined me, to my relief it turned out that I was over 5cm dilated.
Even The Midwives Were Amazed
But then things started to go downhill. As part of the admission process, they insisted I be hooked up to a monitor so they could see how the baby was doing. But he was fast asleep, so I had to stay hooked up for nearly two hours until he woke up and they got the readings they wanted.
Thankfully, after at, they left Rob and I alone and I quickly relaxed again and settled into a rhythm as I got closer to giving birth. Within a couple more hours, I started feeling the urge to push, and we knew we would soon meet our baby.
A midwife came in and confirmed I was fully dilated, and there was a flurry of activity as they got ready.
But There Was A HUGE Problem
Rob had gone to the car to fetch the bags.
And while he was gone, the midwife convinced me it would be best to give birth on my back. Something I had really wanted to avoid.
And without Rob there to support me at that moment, I just went along with it what was most convenient for her, not me. I started to feel out of control, and almost as if my body knew something wasn't right…
My Contractions Slowed Right Down
So for the last hour, the midwives were urging me to make the most of each contraction, because my baby kept moving back upwards in the the long gap in between contractions.
Finally, with the midwives threatening medical intervention if I didn't give birth soon, I made a final effort to push him out. I had gotten this far and I wasn't about to give up. So I ditched the gas and air and with Rob's help, refocused my mind, and within a couple more contractions, our son was born.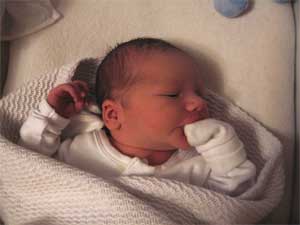 STOP:

You Need To Think
About Something For A Minute.
Now I know you are probably thinking – "how was that a Blissful Birth?" Well, I wanted to make my story as accurate as possible – I wouldn't want to gloss over any difficulties or mislead anyone.
But let's stop for a moment and get things into perspective. This was my first ever baby, and my labour was only 12 hours from start to finish. And even though I had a few challenges along the way:
During my pregnancy, I didn't suffer any morning sickness.
The first few hours of labour, my contractions were 20 minutes apart, and lasted about a minute each. So I was only uncomfortable for 3 minutes in every hour!
When I got to hospital, I was already half way dilated, with no pain relief other than using a tens machine to ease my back.
The next few hours, my contractions were 5 minutes apart. Painful? Yes, especially with a slipped disc. But all the time I felt in control, relaxed and confident, the experience was very manageable – I didn't need anything stronger than some gas and air.
But best of all…
I Came Away From The Experience Feeling Very Positive
I knew I had achieved something really special. I had walked the walk and proved to myself that what we had been teaching actually works.
But now I also knew first hand the potential pitfalls – all the times where my confidence and sense of empowerment was challenged, and what I had needed to do to refocus.
So when we had adjusted to family life and I returned to work, we made adjustments to the Blissful Birth programme to make it even more effective. But there was a nagging doubt in my mind…
"Maybe I Was Just Lucky?"
There was only one way to find out.
We tested the new Blissful Birth programme on some of our clients with great feedback, and when we were confident that we had all the angles covered, we started a group class so we could reach a wider audience.
The feedback was amazing, and I was even invited to a BBC London Radio discussion on how to have a good birth.
Within a year, we conceived our second child, and I knew this was my opportunity to experience the success of the new Blissful Birth programme first hand.
Just like the first time, I went through my pregnancy with no morning sickness at all, which, with a busy toddler at home and a hypnotherapy practice to run, was quite a relief, I can tell you! My back was a lot stronger, and I felt confident from the start.
This time, however, I went over my due date – so you can imagine how keen I was to give birth by the time my labour started.
We had toyed with the idea of a home birth, but our local hospital had recently added a midwife led birthing unit, which offered a 'home from home' environment for birthing, including water birthing pools.
And, most importantly, their focus was on natural childbirth in a relaxed and friendly atmosphere. Just what we were looking for!
I felt the first of my contractions at 3:30pm, and just like before, they were very manageable and around 20 minutes apart. I was sort of expecting labour to start as I had felt the need to urgently 'nest' by vacuuming and dusting the house earlier in the day, and the baby felt very low and heavy.
In short, I felt relaxed, confident and in control.
The Blissful Birth Programme Was Working Like A Charm!
At 6pm, the contractions started getting more intense and more frequent, so I told Rob I was ready to go to the hospital and get into a waterbirthing pool.
After all, the hospital needed an hour to fill it!
We arrived at the hospital and got our car parking ticket at 6:27pm. I was admitted and by 6:45pm I was being examined by the midwife to see how things were progressing.
But just like last time, the midwives weren't convinced I was very far into labour, because I was smiling, laughing and chatting with them!
The midwife finished her examination, paused for a moment, then said:
"Do You Want The Good News Or The Bad News?"
My mind raced and my first thought was "Oh no, she's going to say the good news is that I am in labour, but the bad news is that I am going to be sent home because I am not very far along!"
She smiled and said: "The bad news is that you aren't going to have a waterbirth…
… The good news is, you are fully dilated and ready to push!"
It took a couple of minutes to get undressed, fetch a birthing ball and get me into position on my knees and ready to push, so we skipped the next contraction and waited for the one after.
17 Minutes Later I Was Holding Our Son In My Arms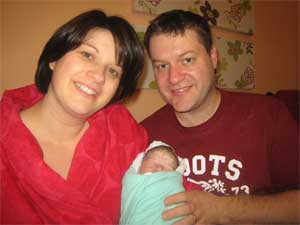 Here are the official timings from the midwife's report.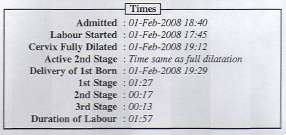 So now I knew for from personal experience the Blissful Birth Programme was a success!
You Could Be Using The Blissful Birth Programme 5 Minutes From Now
Obviously, Blissful Birth works.
And chances are, if you use even just a little bit of it in your birth preparation, you'll feel more confident and in control giving birth.
The Blissful Birth Programme is available for immediate download, and comes with a 60 day full money back guarantee so you can order risk free with confidence.
So no hard sell. This works, and if you are ready to put it to work for you, then click here to find out more or order the Blissful Birth programme.
Best wishes,
Heidi Woodgate
Creator of the Blissful Birth programme,
UK Registered Cognitive Hypnotherapist
and mother of two fabulous boys!
P.S. Remember, your satisfaction is totally guaranteed!
If within the first 60 days you decide the Blissful Birth programme is not or you, I will refund your money in full. No questions asked. No quibble. No hassle. And I'll let you keep the programme for free.